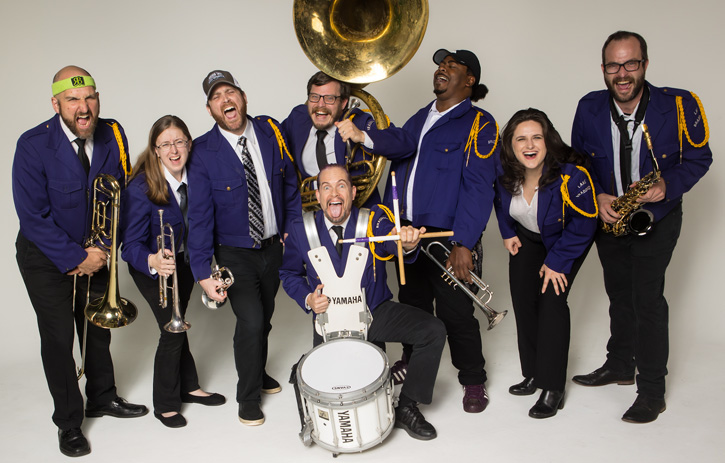 Press
Elby Brass is Virginia's best street brass band—specializing in hard-hitting funk, sizzling soul, and shout-along favorites. Homegrown in Fredericksburg, they feature trumpets, trombones, saxophones, sousaphones, drums, and an undeniable energy. Don't expect anything but brash, raw horn jams and definitely don't expect to stand still. Killer in the club and fantastic at festivals—when you need the party to start right now, you need Elby Brass.
Their most recent release, Turbo Vespa, is a maxi-single available on limited edition vinyl, a first for the band. Backed with the super jam Like We're Gonna Do It, this one-two punch of afrobeat and acid jazz highlights the band's instrumental side without sacrificing their signature call-and-response chanting.
History
On April 15, 2009, Lake Braddock Secondary School posted an ad on Craigslist. They had several hundred of their old marching band uniforms available, completely free for the taking. With one catch.
You must take at least 50.
Lake Braddock alumnus Seth Casana, never being one to pass up a deal, responded the next day. He spent a weekend hauling 150 back to his home in Fredericksburg, hats and all. He also gladly acquired a battered but solid sousaphone from the LBSS music director, Roy Holder. Armed with these new resources, a project that had merely been an idea suddenly became reality.
Fellow Fredericksburg musicians Lars Holmstrom and Chris Park had been scheming with Casana to create the ultimate street brass band. The concept was clear: all brass and percussion, all acoustic, all mobile. This would allow them the freedom to perform anywhere, anytime, all at a moment's notice.
Local musicians flocked to the newly formed band, some old friends, some new acquaintances. All had prior performance experience and each shared in the sheer excitement of this new group. A few months later in July 2009, they performed their first impromptu house party. Ever since then, Elby Brass has been marching to the beat of their own drums. The question is, are you ready to take it to the streets?
Articles